Welcome
Minder is the name for the platform that the UK DRI Care Research & Technology Centre is developing to support people living with dementia in their homes. This includes the use of smart home devices and clinical monitoring.
The process of creating Minder has been underpinned by human-centred design principles, delivered via the Helix Centre.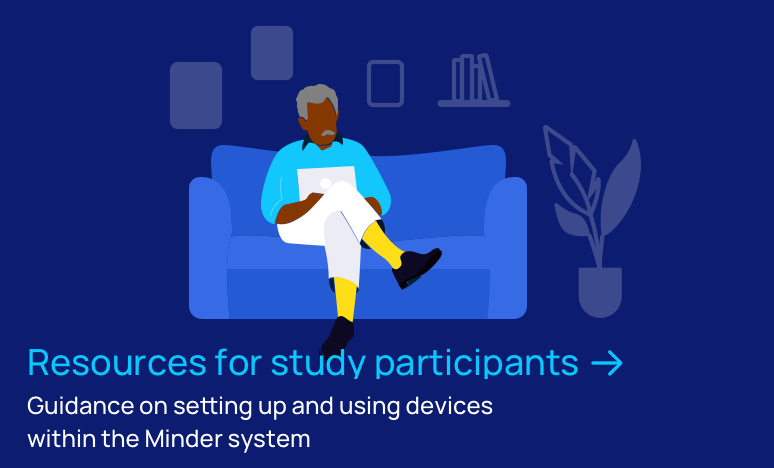 New Horizons in Dementia Care
A short film exploring the perspective of people living with dementia on the work of the UK DRI Care Research & Technology Centre.

View on Vimeo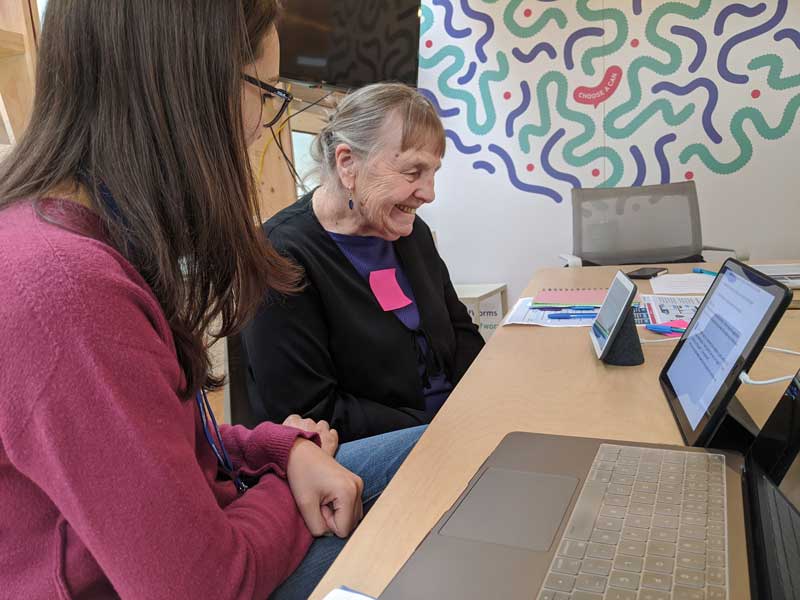 This website, Minder Meeting Place, offers insight into our design process through a collection of mindsets, insights and case studies from the UK DRI Care Research and Technology Centre.
This resource also seeks to demonstrate the valuable contributions of both people living with dementia and carers who have been involved in these projects. We hope that it serves as an inspiration to others wishing to innovate within dementia research.
Applying the principles of Human-Centred Design (HCD) ensures the needs of people living with dementia and their carers are always considered.
The Ethics of Smart Care
Watch these short videos exploring some of the issues important to users of smart care and remote monitoring.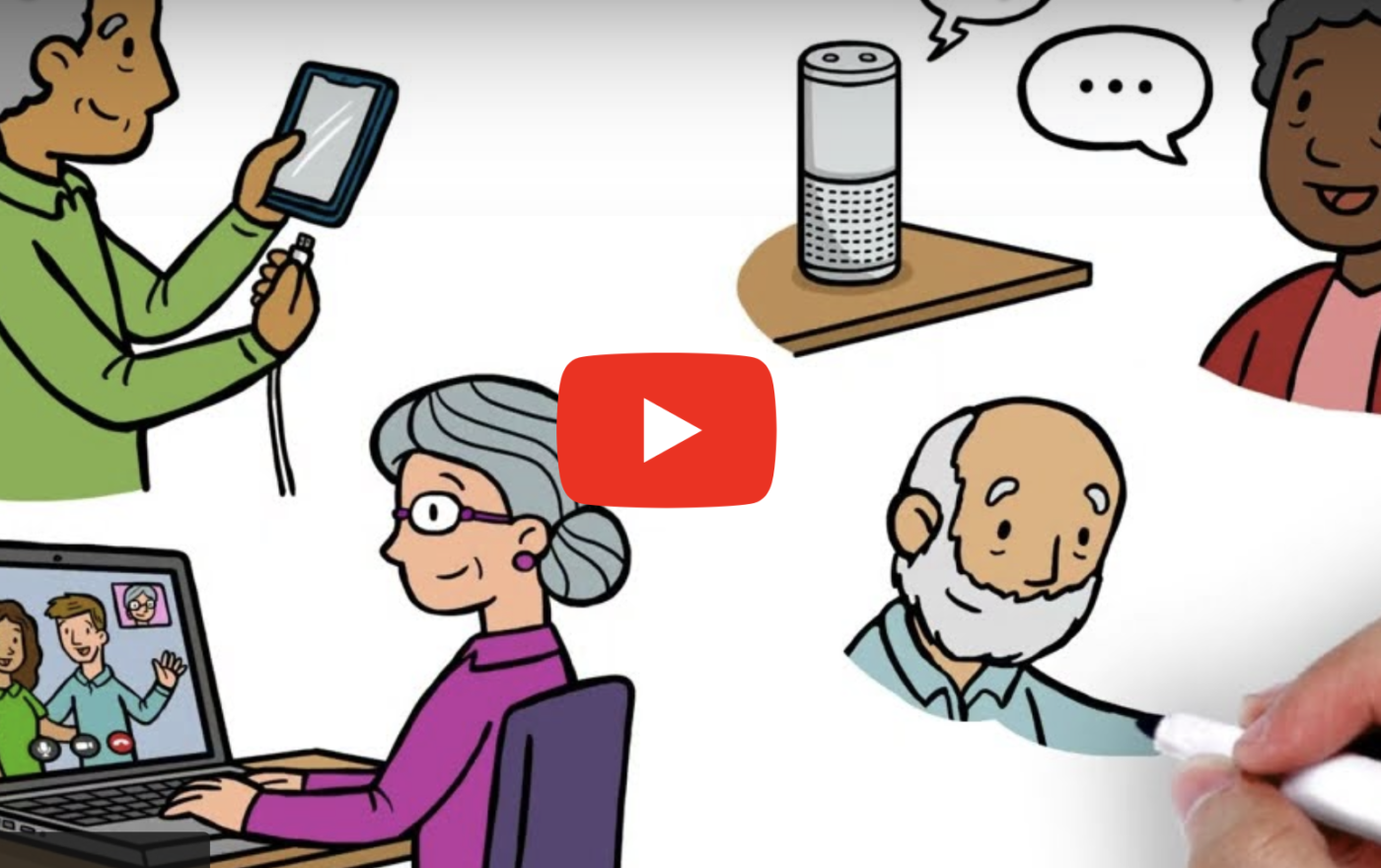 The Minder system
The Minder system is a collection of technologies that enable 'remote monitoring' of people affected by dementia in their own homes by a clinical team. The aim is to promote independence, and improve the general health and well-being of people with dementia and carers, and allow people with dementia to remain living in their own homes for longer. We aim to do this by:
reduce avoidable hospital admissions
improving person-centred care
promoting independence
improving general health, including reducing the impact of infections
managing sleep disturbance
We do this by using sensors and connected devices within the home that are designed to be respectful of the privacy and dignity of participants.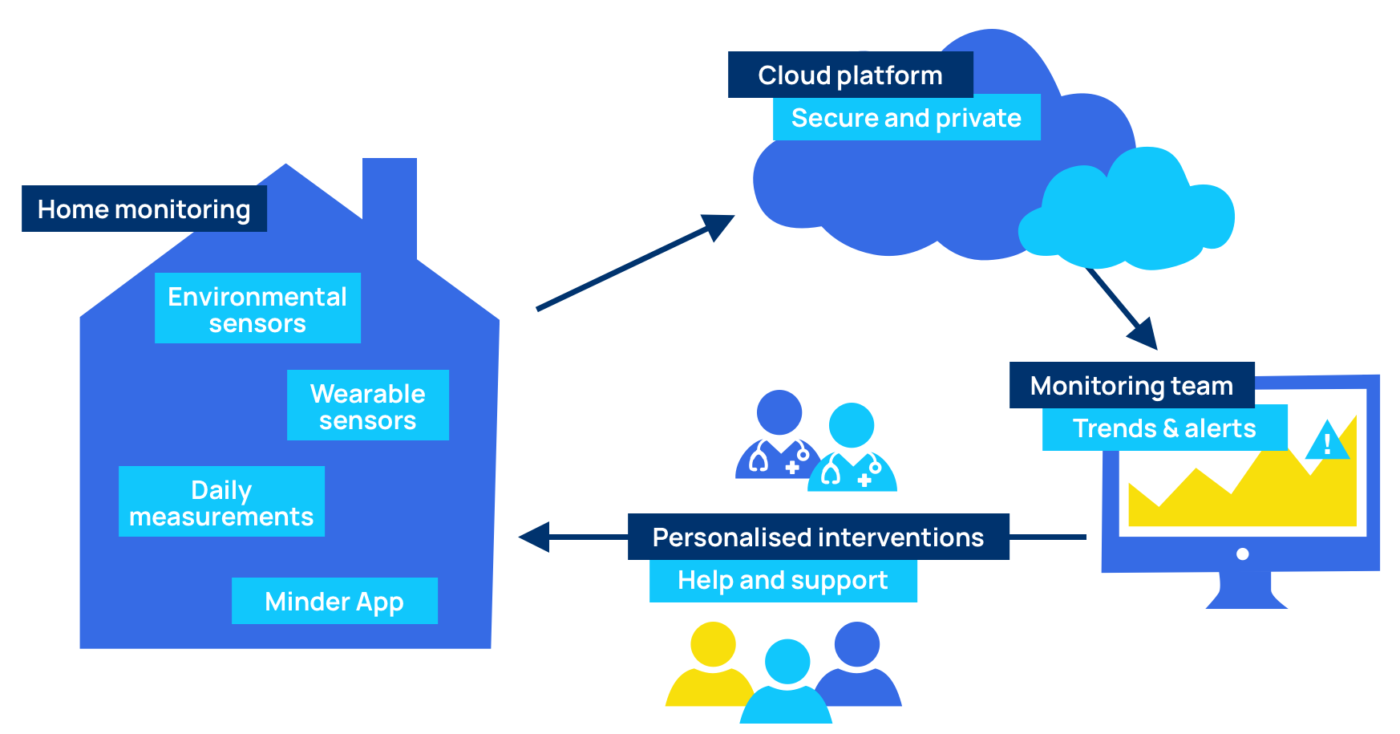 A combination of off-the-shelf and novel devices have been used to develop the Minder platform. While the development of each technology is still ongoing, the Minder platform will combine smart home technology and artificial intelligence with clinical monitoring. Our human-centred design process seeks to promote consistency and accessibility across the platform to ensure each technology is useful, both individually and within the larger home system.
The role of Human-Centred Design
What is Human-Centred Design?
Human-Centred Design (HCD) is an approach to design and innovation that prioritises the accessibility, usability and overall safety of products, both physical and digital. In a broad sense, Human-Centred Design is about knowing and understanding your user(s), and tailoring a product or service to fit their requirements. When applied to the UK DRI Care Research & Technology Centre, Human-Centred Design aims to balance the needs of clinicians and researchers with the physical and emotional needs of people living with dementia and their carers to produce products and services that are fit for purpose.
Where does Human-Centred Design fit within the UK DRI Care Research and Technology Centre?
Whether using off-the-shelf or novel devices developed in-house, the centre conducts a number of research studies to assess how technology might support people living with dementia and their carers. Members of the Human-Centred Design team are often integrated into clinical research teams to assist in developing and implementing such novel technologies.
Human-Centred Design advocates for users
People living with dementia come from all walks of life and their experiences of the condition are often varied. With so many factors at play, there is no typical or representative experience of dementia. The team behind Minder understand the importance of considering this variety of needs by including the voices of those with lived experience of dementia in the design and development process. Minder Champions are a group of both carers and people living with dementia who participate in Patient and Public Involvement and Engagement (PPIE) activities such as interviews, discussions and co-design workshops. Their input has enabled the Design team to gain a deeper understanding of the personal experiences associated with the condition.
Human-Centred Design is iterative and inclusive
Even at the early stages of a project, the Design team will run co-design workshops with Minder Champions to scope their initial insight and thoughts for a proposed project to inform the subsequent direction of work. Alongside clinicians and engineers, the Design team develop prototypes, which are brought to Minder Champions for feedback and testing. These prototypes are often click-through models for digital platforms and are shared through online meetings. Feedback often includes usability assessments, where assumptions of how users will behave when shown a design are challenged and corrected. A continuous feedback loop enables the appropriate changes to be made. Such an iterative, inclusive approach ensures that those for whom the technology is being developed have a say in the final outcome.
About the Minder Project
Minder is an output of the UK DRI Care Research & Technology Centre at Imperial College London. The Centre is funded by the Medical Research Council, Alzheimer's Research UK and Alzheimer's Society. The centre is a partnership between Imperial College London and the University of Surrey. Helix Centre is part of Imperial College London.
Our funders: